Luxurious Pool
Zero-entry access on one end, lap lanes on the other end anchored by a cascading waterfall grotto; outdoor seating includes lounge chairs, tables and chairs, quaint bistro tables, sofa and lounge area and covered shade arbor.
Outdoor Cafe
Covered dining offering 4-star quality food and full-service bar adjacent to the resort-style pool; sit at the bar, table or take your food and beverages to your seat by the pool.
Fire Pit
Make merry, watch the glow of the flames, roast marshmallows, or simply enjoy the warmth during a cool winter night.
Two Fitness Studios
State-of-the-art fitness center with equipment that interacts with smartphone technology to keep track of your workouts as well as a movement studio that offers a multitude of group exercise classes
Tennis, Pickleball & Bocce
Four tennis courts, four pickleball courts and two bocce lanes with covered seating area.
Card, Craft & Board Rooms
Something for everyone . . . arts and crafts studio, board room with sofas and upholstered chairs for conversation and card room with card tables.
Coffee Lounge
Looking to start the day with a complimentary coffee or cappuccino? Maybe watch the news? Sit at the counter and browse your computer or mobile device? Perhaps chat with your neighbors or relax and read your favorite book or newspaper.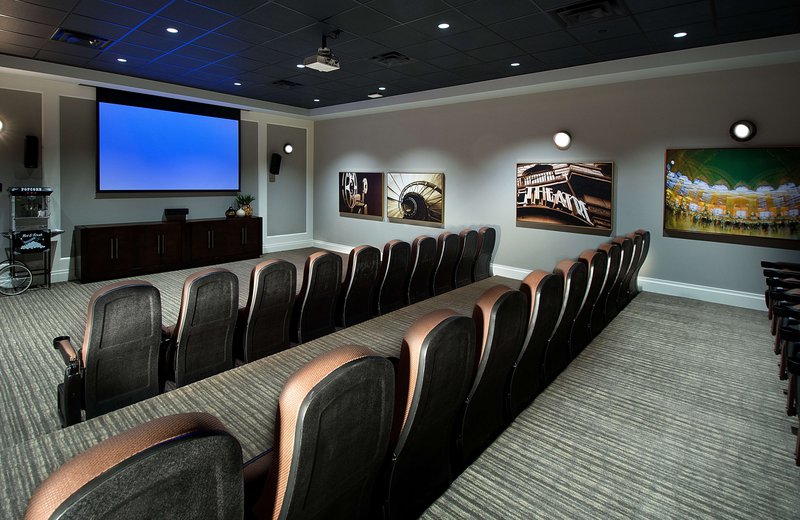 Theater
Multi-level, tiered seating with an oversized screen. Perfect for community movie nights with popcorn, televised sporting events, Super Bowl Party, or have a group of friends and host a movie night of your own.